Discover more from WHEREISAMAR
A newsletter about my journey as an entrepreneur. Come read about connecting people, tech, faith, books, and building businesses.
The Swiss Alps
Ain't no mountain high enough
Hello everyone :)
This month I flew to Switzerland for the World Economic Forum. I was sought after to speak about the power of youth and youth entrepreneurship.
When I landed in Washington D.C. on a layover I had received notice that my speaking slot was no longer available. I felt crushed because this had been my first time investing in this amount of time and finances.
My biggest struggle is becoming angry when a situation does not go my way. In D.C. I was at an emotional crossroads either get on the flight to Zurich or get a refund to go home.
I recalled a quote a dear mentor of mine had told me, "God can do more with a servant than he can with talent". I contemplated the decision for a few hours and got myself on the connecting flight to Zurich with the belief that I would serve somehow.
Every year thousands travel to Davos, Switzerland for the forum. Aside from the beautiful alps, luxury boutiques, and captivating hotels, most never experience the hidden gems of Davos.

On the flight into Zurich, I drafted up 39 emails reaching out to local schools asking if I could speak to students. Three days had passed and not a single reply.
It was 2:00 am on the morning of my last day in Davos and my phone began to buzz. It was a message from a local school teacher asking if I could confirm my attendance for Friday to lead a lesson. The teacher had requested I arrive at the school by 8:45 am for check-in. I immediately jumped at the opportunity and committed to showing up. So I slept for a few hours and woke up at 6:00 am ready to go with my pressed suit juxtaposed with disheveled hair.
There was one problem with this little plan of mine I had no way of getting from Saas (my Air BnB) to Davos other than Uber. Well, Uber was costing me 250 CHF each way and I only had 100 CHF left to my name. Don't ask about my bank account cause that was pretty close to $10 at this point. So here I was broke and stuck in the town of Saas at 7:00 am with no affordable means of getting to Davos. At this moment I wanted to give up once again and tell the school teacher that I was feeling under the weather.
It seemed as if it wasn't meant to be.
I woke up a roommate in the Air BnB asking him if he wanted to head into the city a few hours early. He agreed, and we split an Uber as close as we could get to Davos. I ended up in Klosters-Platz still another 25 minutes by train outside of Davos-Platz. The Uber we took got lost in transit causing us to miss the final early morning train from Klosters to Platz. The next train wouldn't arrive until 11:30 am which is far beyond the time the teacher wanted me in his classroom.
In the distance, we saw the World Economic Forum shuttle and decided to push whatever luck we had left. The shuttle is only for high profile attendees and people with an official badge.
No speaking slot, no badge. No badge, no ride.
We zipped up our top coats pretending that the badges we're tucked away inside and confidently asked to be taken to Davos. The driver did not check for our "badges" and let us on the official shuttle.
It was 8:20 am and I entered the city boundaries. Felt like a real trojan horse moment. When we got to the official checkpoint my colleague and I were held by Forum security and armed military about not having a badge. After a few minutes of intense deliberating, they escorted us off the premises.
It was 8:30 am and I still had a 15-minute walk to the school. I went to the local Kaffee Klatsch to get some coffee so I could squeeze out the last bit of charisma I had left. Also, it would be a great time to review the slide deck that I was going to show to the students. To my surprise, my Google Drive did not have the slide deck and I left my backup flash drive at home in Colorado. I was going to speak to students with zero content despite telling the teacher I had a lesson.
I rummaged through email to find three pictures and put them in a presentation. ver to the school and in my mind, I began to pivot the talk I planned. The teacher met me outside the school greeted me with a warm hug and I definitely needed that.
Before I entered the classroom I reminded myself of a fun quote...
"What would you do today if you knew you could not fail?"
Regina Dugan
Now began the journey I always wanted to pursue. Speaking from the heart and making kids smile. I had no formalized slide deck, lost my last bit of cash, and my spirits were at an all-time low. I had no expectations for myself or the students but managed to share my story with addiction.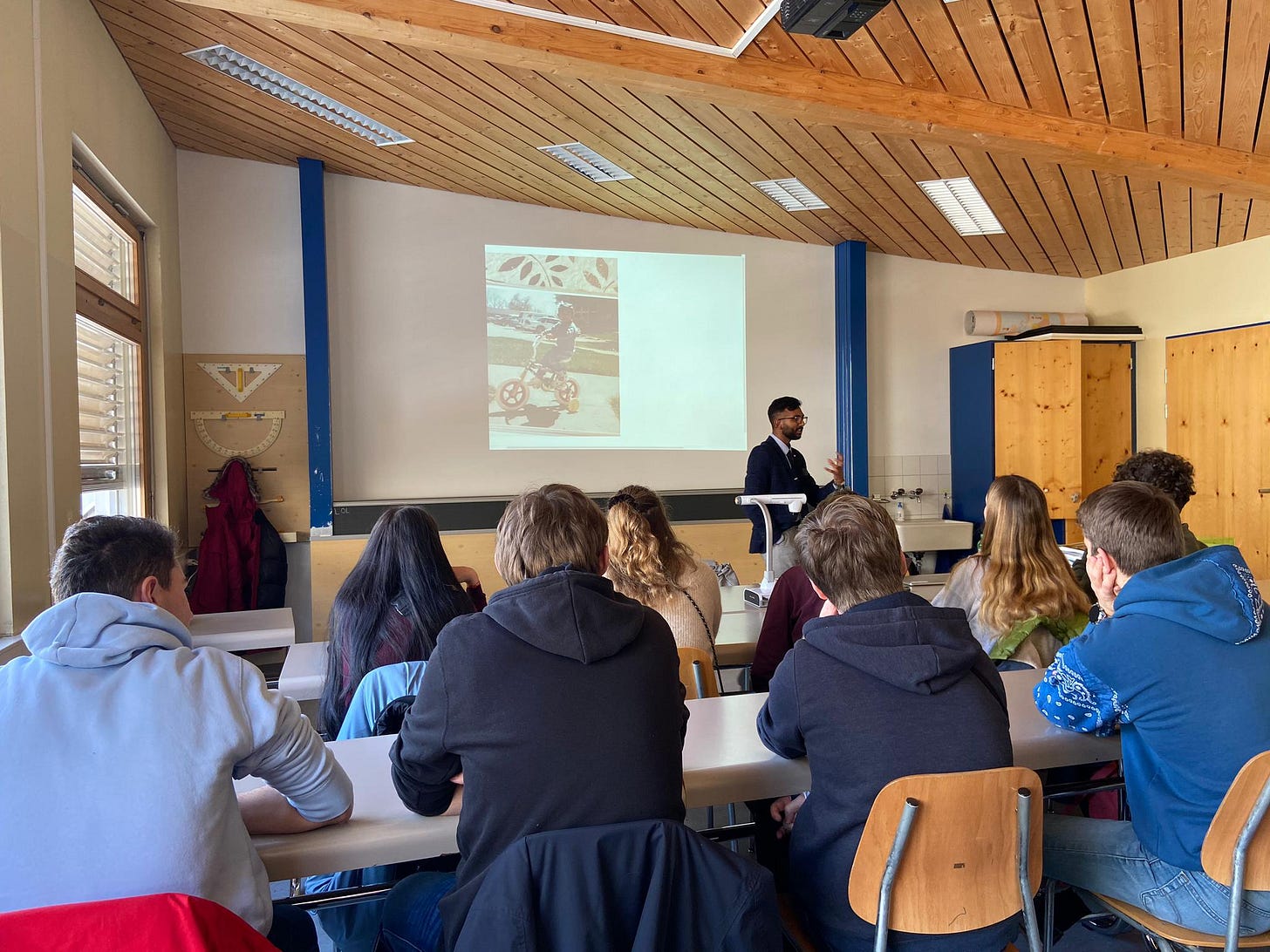 In the middle of the Swiss Alps, these students opened their classroom to me and I'll never forget that. After the talk I had some students approach me asking for advice about their addictions. They asked all the right questions and it felt that God led me to this classroom.
One student told me, "I've been praying for someone to come to our classroom and revive the energy here". I stood there in disbelief when he uttered those words to me.
Well, young man, it was an incredible honor to spend time with you and your class was the hidden gem. I encourage anyone in this season to step into whatever you believe your purpose is and show up.
Keep Smiling.
Instagram: @whereisamar